TESTIMONIALS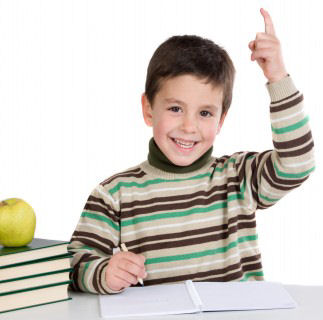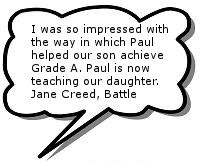 I feel Mr Jaffey is a very good maths teacher and has helped my maths to improve with the work we are doing in class as well as working on new stuff that we haven't yet covered in school.
Elliott, Year 9
Paul has an excellent understanding of children, the school system and of course maths. He has worked with our daughter for 5 years now and she has been transformed from a struggling 7 year old to a top of the class 12 year old. Paul continues to work with her and our son in order to keep them working ahead of the game. With Paul's help my children's success in maths has been the key to building their confidence, which has then spread to other subjects.
Christine Johnson, Battle.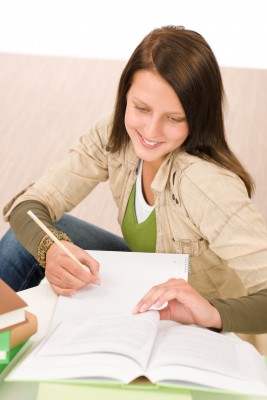 We contacted Mr Jaffey when our oldest daughter was struggling with her maths, and thanks to his reliability and patient persistence our daughter actually looks forward to and loves his lessons. She has achieved magnificent results, representing her school in numerous maths competitions.In the last three years Mr Jaffey has also been teaching our second daughter, with excellent results, and still makes time to encourage our third daughter who enjoys maths already - because Mr Jaffey always makes it fun.Most importantly the girls have confidence with maths and are never worried about it.
Mrs Goodwin, Beckley.
We quickly saw how our two children were benefiting from the extra help they were receiving from Mr Jaffey. My son achieved an A* Grade with his GCSE exam and is now studying A level maths.
Our daughter who had been struggling with maths is now one of the better students in her class and hopes to match her brother's achievement this year when she sits her GCSE.
We have no hesitation in recommending Paul to anyone who wants to give their child help with maths. He did a great job for us.
Mrs Wood, Battle
Paul's teaching has helped my grandson to make tremendous progress with his maths, and as a result of this he will be taking his GCSE exam a year early, and is fully expected to pass with a good grade.
I am very pleased with the way Paul creates a relaxed environment and achieves excellent results.
Mrs Pea, Hastings
I was having difficulty with my maths, due to hearing difficulties, and I was lagging behind. Fortunately for me my parents got Mr Jaffey to help me. I have represented my school in the Cambridge University Maths Challenge. Last year I received a silver certificate, coming top in my year, and this year I obtained a gold certificate and received best in school.
Thanks Mr Jaffey for not only helping me to learn maths, but also for making it enjoyable, as it is now my favourite subject at school.
Lily, Year 9.